POT bearing consisting of a metal piston supported by a disc of unreinforced elastomer that is confined within a metal cylinder for allowing rotational movement about any axis in horizontal plane and to bear and transmit vertical load. Pot bearings may be provided with sliding assembly (with or without restraint in the form of guide along a desired direction to bear and transmit horizontal force) comprising of stainless steel plate attached to metal backing plate sliding in horizontal plane over sliding material confined in recess(s) on the piston which shall be termed as Sliding / Guided Pot bearings. Depending on the desired degree of freedom Pot bearings may be of different types as follows:
Features
Long term serviceability
Inexpensive repair
Heavy load suspensibility and high safety.
---
POT Bearings
Fixed pot bearings
Guided Sliding pot bearings
Free Sliding pot bearings
Pin bearings
Metallic Guided Bearings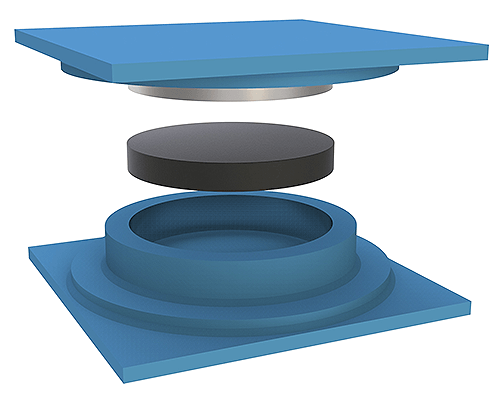 The main elements of our pot bearings is surface cylinder acknowledged as pit, an elastomeric pad regarded as disc as well as a set or single siding surfaces, piston and sealing rings. Base plates and masonry plates are normal for introduction of our bearings, as these permit association of bearings that enhance the reinforcement area on abutment and the pier. Our bearings are attached against every translation unless these are deployed with sliding surfaces of PTFE.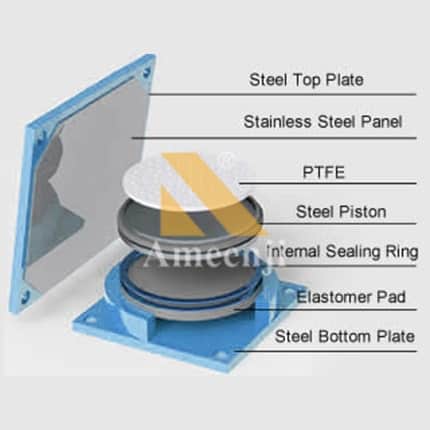 Piston and Pot
Our pot bearings are produced deploying stainless steel pistons and structural carbon steel. Integrated sealing rings are made of brass that is the most imperative part of our bearings for their prolong services, which are compulsory system adhered by our company.
Elastomeric Disc
In our bearings upright load was operated through bearings piston and is impaled by compressive pressure in elastomeric pad that is deformable yet mostly in compressible and also, idealized as be possessing hydro statically, however, in virtual exerts shear compression.
Outer safety rubber dust seals
These seals are provided on every bearing, impeding penetration of debris such as water, dirt, etc., that can harm brass sealing rings and elastomeric pad, offering substantial advantages.
Bearings made by our company
Fixed pot bearings
Guided Sliding pot bearings
Free Sliding pot bearings
---
Benefits
Our pot bearings are considered when bearing revolutions are huge, and long term serviceability and compact outlines are demanded. These offer prolonged working life and smaller size as contrasted to elastomeric bearings.
They have prolonged handling time
They have sustainability of numerous cycles of large and extremely small rotations
They have inexpensive repair as substitution of elastomer disc is only demanded
They have resistivity against outer atmospheric correction
These kinds of Pot bearings are generally optional when the bearing rotations are usually huge and large, also where there is a need of dense and compressed designs and also where long-time serviceability is needed and expected.
These kind of Pot bearings generally offer an extended and long service life when they are compared along with the elastomeric bearings.
The Pot bearings are generally smaller in size when compared to the elastomeric bearings.
They come with the feature of longer maintenance time which means they need repairs or maintenance post a good amount of usage.
These kinds of Pot bearings can generally withstand and bear many kind of cycles of very small and very large rotations.
They have inexpensive and reasonably priced repair as a replacement of elastomer disc only.
These Pot bearings also do not get easily affected by the exterior atmospheric correction.
Additional Fixtures for Bearings
Extra fixtures such as base plates, studs, PTFE sliding bearings, welded studs masonry plates, temporary bearings and more will be obtained for customers' complete demands.